Hi Everyone,
I got bored and decided to make a cheat mod for Game Dev Tycoon.
Using the mod to cheat will prevent your savegame from getting corrupt.
Features:
0.1.1
Add Money

Add Research Points

Add Fans

Add Dream Team ( Fill your team with Expert Teammembers)
0.1.2:

Move To Final level ( Hardware and RnD lab included)
0.1.3:

Ability to add AAA research
0.1.4

Move in Time function, you can now goto any date in the game.
0.1.6

Money can now be added By 1M, 10M, 20M

Staff members don't need Vacation.
0.1.8

Hype can now be added by 100 points.
Always perfect games mode added.
0.1.9
Added A No Bugs Mode (No bugs during game creation)
Unlock All Topics (Research All Topics)
0.2.0
Fixed a problem with the No Bugs Mode
Added Fast Research/Training Mode (Research/Training is almost instant)
0.2.1
Female staff members added tot 1337 dreamTeam.
0.2.2
Fixed bug in Fast Reseach Mode, Training staff now works again.
Added Feature to give yourself Pro developing skills.
Added Feature to create Random strong trends!
Random 11 out of 10 scores now possible in "Always perfect games mode".
Add hype by 10 , 50 and 100
Add Fans by 1M , 10M and 100M
0.2.3

Fixed bug in Add DreamTeam ( sometimes in lvl 4 it would only add 4 staff members).
0.3.0

Added Feature ,Users can now add Tech levels ( For example Graphics V3 lvl 15 …)
Added Feature to allow users to add Design & Tech points to a game during game development
1.0.0
Added Feature To Add Sequel games
Added Feature To allow users to add Design & Tech points by 10 or 100
Added Feature To allow players to easily add ResearchPoints by a + button.
Added Boost L2 for DreamTeam
Added Feature To add a B-Team: stats are at 700 instead of 1000.
1.0.1

Added Feature To Add 1B Money
1.0.2

Added Feature To Show/Unlock All Hints (Topic Genre Combo,Training, Platforms Genre & Audience, Topic Audience)
1.0.3 - Fixed bug with Unlock All hints
1.0.4
Unlock Casual games & Sequels when starting new games
1.0.5
Added simple way to set money and fans for mod testing.

Remark: Hints will not be saved, need to activate this function every time you restart the game!
Download:
GONE: download workshop edition (there are some fakes out there make sure i'm the poster of the mod!)
http://steamcommunity.com/sharedfiles/filedetails/?id=296866860
Screenshots: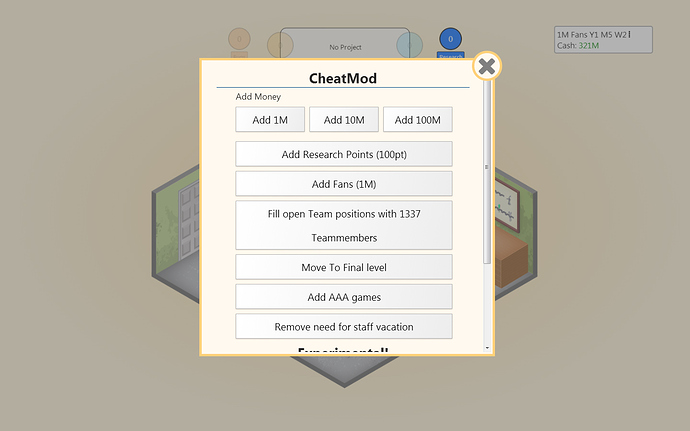 The Small "+" will add by 10 points & The Big "+" Will add by 100
Greetz Kristof