I have totally changed my opinion from earlier about the hacked money. Thanks for changing my view, Charlie!

To gets money, fans, and research points you will need:
Mozilla Firefox, SQLite Manager Plugin (for Firefox only), and NotePad++
Step 1: Choose your slot.
When you want to change your money, make sure you have the correct save. Make sure you are not looking at the "Auto" at the top. I will be changing the slot with the company name: "Let's Hack"
(The top one, is from a friend, that sent me his hacked company. Don't flip because it's from my other post about hacking!)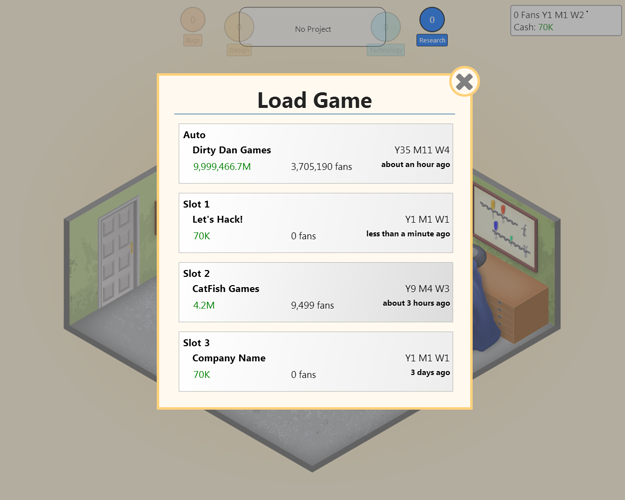 If you can see, it is Slot 1. Keep that in mind!
Step 2: Finding the File
Now that you know what slot you will change, open up Firefox and click the Firefox button in the top left corner. Then move your mouse over "Web Developer" and click "SQLite Manager"
Once you have that open, click the folder in the top bar. Then scroll down to your Computer button. Once you do that, click the Local Drive C: button.
Then scroll down and double click Users, and then your name (or whatever user you are using.) The click at the top, where you search for files. Do not delete that whole thing! It's like typing in a website URL. After your name at the top, type /appdata
This will open up four files. Then double click Local. After that, scroll down and find Game Dev Tycoon, and open it. Then click Local Storage. No files will show up. That is normal. At the bottom right, above the "Open" and "Cancel" files, it will
show "SQLite DB Files." Click that and change it to "All Files" Then, click the first file that shows up.
Step 3: Copy the storage file
Once you have double clicked Game Dev Tycoon, and you are back at SQLite Manager, double click Item Table on the left side. Then scroll down to the bottom and find the file named "slot_1" Right click it, then click "Edit"
Here is a picture of where Slot_1 is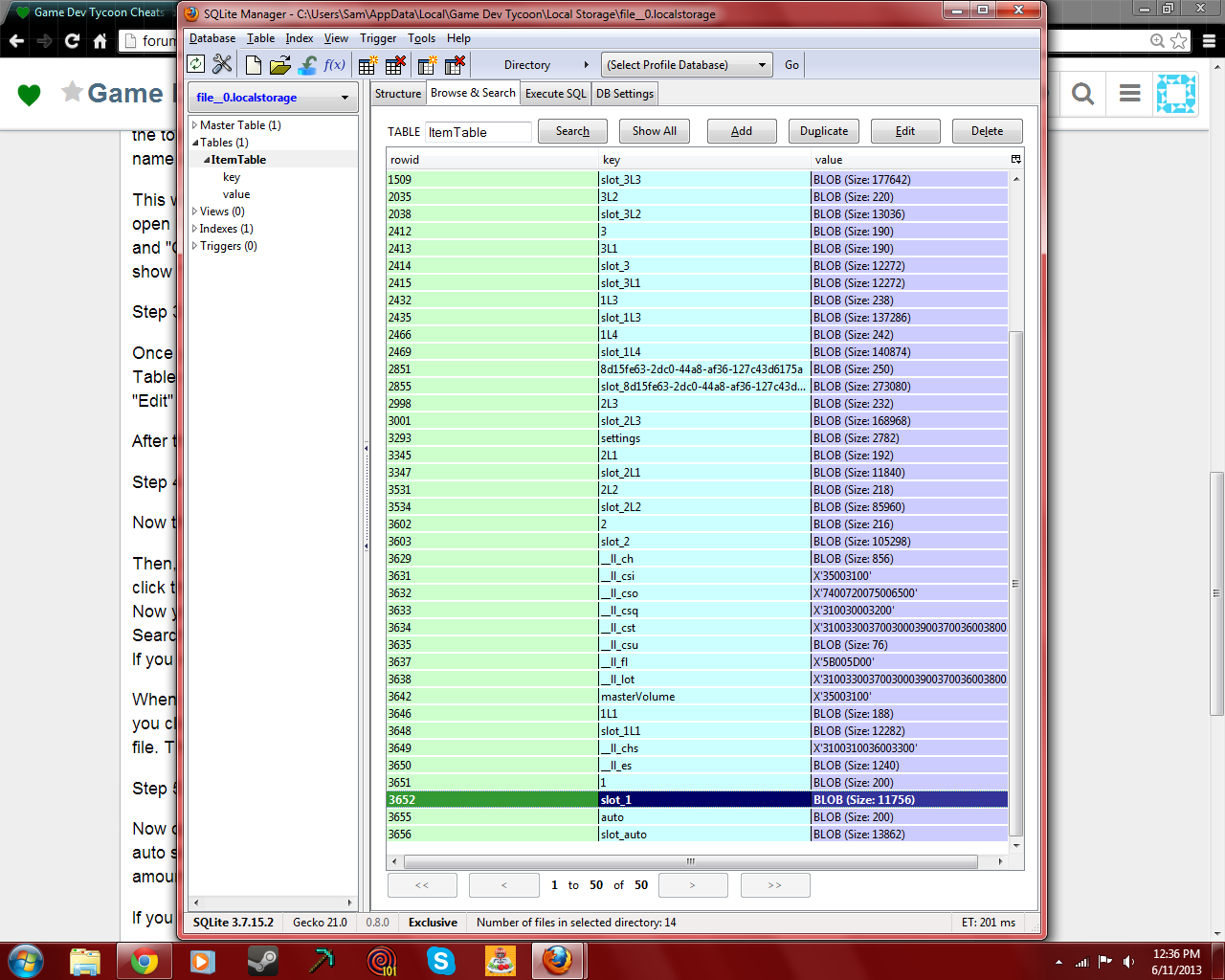 After that, click the Save diskette on the side. Save the file to your desktop. Make sure to name it slot or slot1
Step 4: Money Time!
Now that you have the correct file (hopefully) saved, open up NotePad++. Then open up the file you saved.
Then, once that is open, a long line of text will stretch across your screen. Hooray! Now, all you need to do is click the search button up at the top and search "Cash"
Now you can find your cash and change the amount!
Searching "fans" finds the amount of fans, and to change the RP, search "researchpoints" as one word!
If you want, search your characters name to change their stats.
When you are done, go back to the item table where you copied the slot. I hope you didn't close it! Now when you click "Edit" to open it, click the paper clip on the bottom. Then go to your desktop and open up the slot file. Then hit. Ok. And then OK. again. Now you can close it.
Step 5: Correct slot!
Now open up Game Dev Tycoon. If you look in the corner, you will not see it, that is because you are on the auto slot. Hit "Esc" and then click "Load" and click the slot. If you look at your money, it will be at whatever amount you changed it to!
If you had problems, please reply to this topic. Thanks!