Originally published at: http://www.greenheartgames.com/2018/03/09/v1-6-released-new-pirate-mode-new-game-content-better-ui/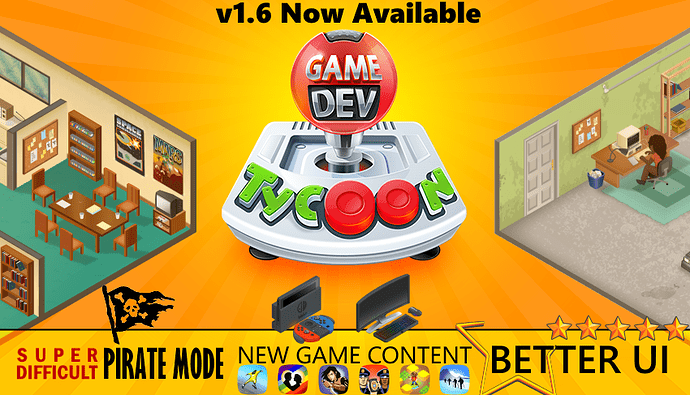 Read all about it here.
Any ETA on when the source code will be pushed to the GitHub Repo?
Congratulations for this great update and the great success of the game for mobile phones, the only thing missing is the option to make the reports where the sales of the game appear: D
I am unable to download the Linux version using links provided in the e-mail I have received when I bought the game 5 years ago. They instead provide me with a 1.5.11 build. Windows/macOS builds seem to be up to date judging by the filename. Can you update the deb and/or tar archive?

Thanks!
are there any mods out there for the new update? If not then I might try to develop a Cheat Mod for 1.6…
All older mods should be compatible with the newest version, so no need.
We are working on it. Should be able to get them up soon. In the meanwhile the newest version is available on Steam (also for Linux). Sorry for the trouble.
It will be really great if you will add option to delete all data from the beggining.
Right now I am not able to make any game 10/10 because my "top score" was so hight that my max. possible score right now is 9.75/10

And this pirate mode is just crazy. I am not sure if I will be able to end game on this mode

Today my 8th attempt to complete second office

PS
WHEN BETA TAVERN KEEPER WILL BE RELEASE?! I JUST CAN'T WAIT FOR IT!

Just to clarify: Past games don't have any effect on your new company if you start another play-through. Even in the same game the 'top score' mechanic is usually grossly overstated because of outdated information on wikis.